NOT LAZY, JUST INFP
5 Strategies to Understanding INFP Procrastination, Dispelling the Myth of Laziness, and Getting Long-Term Goals Done
CONQUER PROCRASTINATION ONCE AND FOR ALL!
INFPs are visionaries. Nothing beats their vivid idealism, so no wonder they received the title "Dreamers" of MBTI. However, problems arise when INFPs have to make sense of reality and execute their rich imagination. It might be a motivating start for them, but it ends with frustratingly abandoning their goals. 
Yep, it's one of INFP's biggest stumbling blocks — procrastination. And others believe it's plain laziness. But… is it really?
In NOT LAZY, JUST INFP, Margarette Mathias shares her observations, experiences, and analyses of INFPs' procrastination based on cognitive functions. Driven by a personal quest, Margarette also once asked, "Why am I like this?" and spent years deciphering the paradox of being an INFP. She wrote this book to help her fellow INFPs overcome procrastination, reach their long-sought goals, and embrace the beauty of their own personality.
NOT LAZY, JUST INFP: 5 Strategies to Understanding INFP Procrastination, Dispelling the Myth of Laziness, and Getting Long-Term Goals Done
In this e-book, you will:
✔️Understand what truly makes INFPs procrastinate
✔️Learn tips on how to pave your way through multiple interests (and it's different from the common productivity advice!)
✔️Find a driving force to make you move and reach your goals
✔️Learn how to be more mature in your decision-making
✔️Get techniques and strategies on how to stick to a plan
✔️Learn my personal scheduling method which allowed me to be a "project starter AND a project finisher."
What you'll get:
✔️A 108-page PDF file of the "Not Lazy, Just INFP" E-book (2MB file)
What's in the book:
✔️My personal observations and techniques to get things done as an INFP
✔️No fluff and straightforward storytelling and advice
✔️5-Chapter e-book of effective strategies to overcome INFP procrastination. It answers the questions:
How to use procrastination to our advantage?
What to do with our multiple interests?
What truly drives INFPs to take action?
How to stick to the goal?
What scheduling method works best for INFPs?
Ready to learn more about yourself? You will receive it in a few minutes!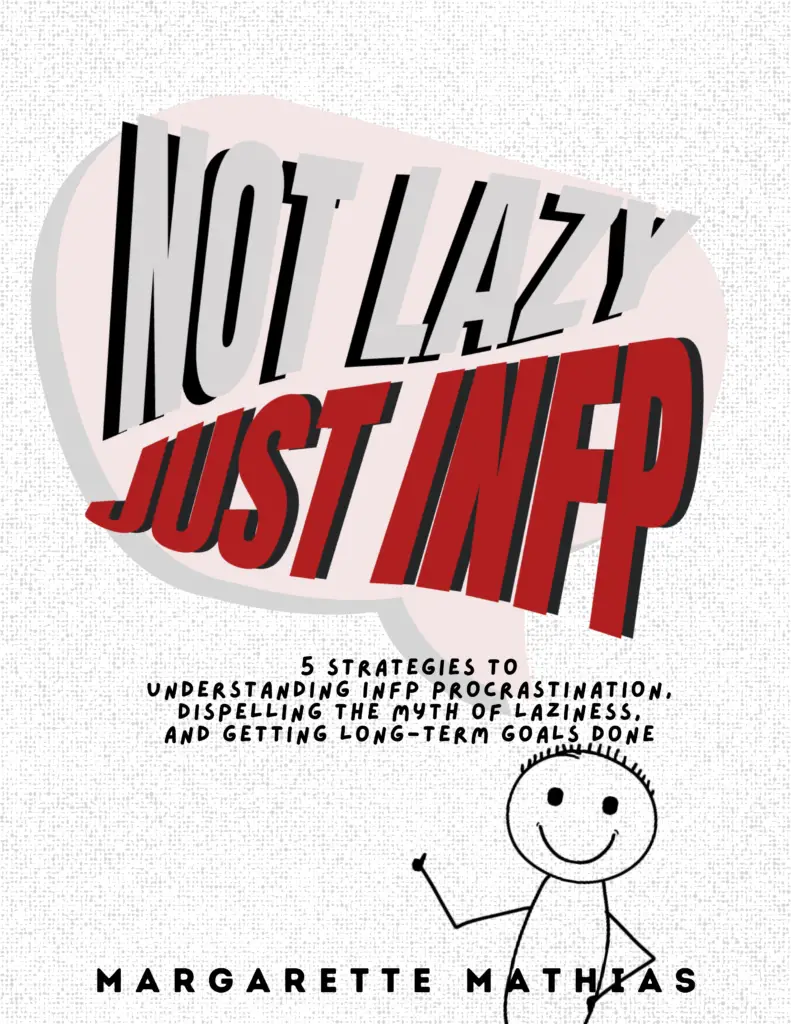 NOT LAZY, JUST INFP
$7.99