You're in a dilemma.
You find it hard to choose your career path. You ask yourself "should I get a job or start a business?" This scenario is close to me. I was there, too. Not once, not twice. But it frustrated me day and night, year by year.
Which path should you take?
Today, nothing seems impossible, but facts will stay true. According to Forbes, not everyone is fit for a 9-to-5 job. These people are not for a structured organization. Yet, there are also people who struggle in handling and growing business.
When you are at crossroads in life, it can be hard to decide. Should you take the risk or just go for a full-time job?
A business offers an easy life in the future.
A regular job provides stability.
What works best for you?
The Factors to Consider When Choosing a Career Path
Should you get a job or start a business? There are some disadvantages to getting a job. But launching a business has disadvantages, too. What factors should you consider?
Most people would consider money. Yes, it's important to consider the income, but you must look past that.
Salary and revenue pay the bill. That's true. But money, in the long run, won't easily equate to happiness.
We must also consider the workplace, passion, benefits, and, especially, growth opportunities.
Is it profitable to continue working in an office job with above-average pay?
Should a skilled worker stay in a doomed business located in a place with next to zero traffic?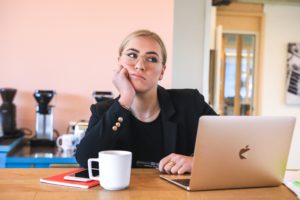 Young adults, whether fresh grads or those in their late 20s, must consider the factors below:
1. Passion
Undeniably, passion should be at the top of this list.
Some people follow their grandiose dreams. Others pursue a pre-planned career related to their specialization.
Billionaires can get tired of their job. There are those who trade their six-figure 9-to-5 job for a simple business that gives them freedom.
Do you know why they undergo drastic turning points in life? It's the realization of their passion. Money isn't a lifetime drive, passion is.
Working for a salary may seem good enough motivation at first. But waking up every morning to work for just money will eventually wear you out. There's gotta be some more meaning.
You must decide which choice is inclined to your personality and principle.
I experienced job-hopping to four different companies. I believed I'm most productive when someone pressures me on what to do because I was a great procrastinator. (but I absolutely dislike it).
So, I pursued employment. Before, this setup drives me to function.
However, I dread the structure and hierarchy in most companies. I can't be myself because the office is overly competitive. I had to bear the toxicity and gossips of some co-workers.
So, I found a job with better flexibility and started blogging to make room for what I really love — working at my own pace and structure.
As for you, which suits your personality best? At the end of the day, your passion, principle, and personality will dictate which path you would settle in.
2. Benefits
The profit (for business) or the base salary (for employees) is one part of the compensation package. Other than that, you should also consider retirement, insurance, and time-off.
If you opt for a regular job but the company doesn't cover basic benefits such as health and social security insurance, then consider other opportunities to prevent financial ruin.
Beware of companies who don't value their employees. If you become unproductive due to illness *knocks on wood*, this kind of management won't hesitate to fire or let you go.
On the other hand, running a business is riskier. It is an unstable and anxiety-inducing endeavor. It's not for the faint of hearts. However, when a business fails to cover basic necessities and life insurances, then a regular job may be a better option.
This is why people with low self-esteem, fear of failure, and who are facing mental health issues choose a regular job. It provides stability compared to the rollercoaster ride of running a business.
3.Teammates and Workplace
An over-bearing manager or a toxic workmate can leave scars for life. Don't underestimate the effects of mental disorders induced by a bad workplace.
According to a Monster's 2020 State of the Candidate survey, 24% of American employees have experienced depression.
In addition to that, 34% of the participants stated that their job negatively affected their life, productivity, and mental health.
Once depression or anxiety cripple you, finishing tasks can be a challenge. Worse, mental illnesses are hard to treat. They last for months or years, negatively affecting the lives of workers.
You must not sacrifice happiness and stability for the heartaches and toxicity of a job. Such employment could make or break you.
Again, this goes back to the suitability of your personality and mindset.
I've seen people succeed as employees because they can handle work stress and all. I've seen creative people whose confidence got smashed because they can't interact.
This factor should be highly considered. Can you work as a teammate? Or do you prefer working alone/ establishing your own business?
4. Growth Opportunities
Owning a business provides limitless opportunities for growth and skill acquisition. On the other hand, being an employee offers personal improvement and career development.
In Business: Business owners, in any field, are required to learn new skills when the need arises. Startups should always be on the frontlines in their industry. Whether they need to learn the latest program or operating a state-of-the-art machine.
They must beat their competitors, either to the latest tech or most effective marketing strategy. This way, businesses have no other option but to embrace growth.
In employment: Seasoned employees train new hires. Employers hire applicants for their experience, skills, work attitude, or potential. In an office setting, employees may either grow or remain stagnant. Nonetheless, promotion and raise is compensation for employees' growth.
5. Skills and Capital
In Business: Let's face it. Everyone can start a business, but not everyone can keep it going. You need skills and capital.
For example, to own a coffee shop or a fishmonger, you need to have capital that backs you up for months. It may take a while before a real profit comes back.
To start a freelancing agency, there are skills prerequisites, such as copywriting, marketing, and communication skills to ensure quality and delivery of the service.
In employment: On the other hand, if you follow a career path related to your degree, the only capital needed is job-hunting expenses. You need to pass interviews. Once you're in, voila! You'll receive income twice a month.
Job or Business: Why Start a Business?
If you have an entrepreneur mindset, then opt for owning a business. Some people, especially those who're considered lone, independent wolves, will do well in a business setting.
According to SmallBizGenius, a high-traffic website created to deliver the latest statistics in the digital marketing industry, 62% of American billionaires are self-made.
Roughly 30% who start an SMB (Small and Medium-sized businesses) are between the ages of 20 and 30.
SMBs are at the center of every industry. They saturate markets and open opportunities for low and middle-income individuals.
Employees who switch from a workplace environment to a business feel more motivated and fulfilled to work. They say that being the boss is what's best for them.
Here are some more advantages of starting a business:
Setting one's own projects, schedule, and office location

Having no boss or supervisor

The freedom to build a personal lifestyle

Learning opportunities and financial rewards

Personal satisfaction and creative freedom

The potential to build a fortune in a short time
Job or Business: Why Choose a Full-time Job?
Like owning a startup, there are many advantages to getting a job. They are as follows:
A steady, stable income

Set work hours

Skill acquisition and free professional training

Work in a professional environment and develop beneficial work attitudes

Over-time pay and paid vacations

Entitlement to sick pays and double pay

Solid retirement and several insurances
The aforementioned benefits don't apply to all 9-to-5 job types. For example, some blue-collared jobs, such as truck driving, sales, and construction work, don't offer hazard pay and health insurance.
Some companies terminate their employees or staff once they fail to show up due to sickness or other personal reasons.
Job or Business: Weighing Everything
Both options offer career growth, given the right circumstances. As listed above, there are plenty of good reasons to choose any route at the crossroad.
If you are opting to start a business, you must be driven and focused. You should have enough capital and the right skillsets for the business you will establish.
Job aspirants, on the other hand, need to be diligent, punctual, and patient. They must be mentally fortified to handle the challenges and demands in the workplace.
A business offers liberty and time for oneself and family. Entrepreneurs can build a healthy lifestyle while going for personal development and business growth.
A full-time job provides stability, paid vacations, and employee retirement plans. Office workers have fixed incomes.
Once they have a reputable credit score, they can apply for car and house loans. They can use these loans to fund small businesses, too.
Now that everything has been laid out, the choice is up to you. Will you be a new entrepreneur or an aspiring employee?