Are you wondering what do INFPs want as gifts? Of course, you do.
If you're looking for what INFP wants in general, I made a separate blog post about it with 155 INFPs responding to a survey.
As an INFP myself, I've also spent some time scrolling through Amazon. I noticed my preferences are in line with many INFPs who answered the survey.
So, to give you a more specific choice, I scrolled over to Amazon and searched for items that truly resonated with my preferences as an INFP. Here are what I think are the best gifts for INFPs (or actually best gifts for me lol). 
–*Disclosure: This post contains affiliate links. I may earn a small commission from qualifying purchases through these links at no additional cost to you. Thanks! —
This Wishlist is CHEAP.
I didn't particularly choose cheap gifts. But as I scrolled and imagined real hard what I wanted as a gift, these items magnetized me to check on them. My search encompassed a lot of "Ohh…" and "Ahhhh, I want this!" expressions.
 I'm listing down what INFPs want, and not the needs. Frankly, we need a lot of random things from home decorations o kitchenwares. That's gotta be massive so I scratched them from the list.
I only included the items I would buy on impulse if I won't think about my personal budget. Furthermore, I would LOVE to get these as gifts! Here we go with my INFP wishlist!
Top 11 Affordable Gifts for INFP
Anyway, I hope you find my list similar to what your INFP may just want. Let's go through it one by one: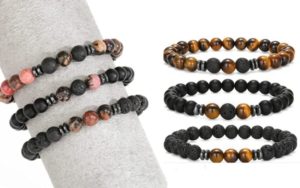 I don't know how many beaded bracelets I had in my lifetime. I wore them as a kid, in high school, and even college and they were all gifts (or remembrance). Beaded bracelets give such an earthy vibe and I love it! Maybe, if I have to choose between wearing metal accessories or beaded bracelets, I would choose the latter.
And also, I had a time where I was fascinated with Bob Marley. It always reminds me of peace, but I also felt comfortable and cool wearing it.
To be honest, some of my beaded bracelets snapped already because I loved wearing them all the time. I even forgot to remove it in a pictorial and the photographer got furious. Lol.
Even so, I kept the beads in my stash and still remember who gave them to me. Not only it's my preference, but it also a memorable gift.
Lastly, I've also given one beaded bracelet to a friend because I saw him wearing a few. Only to find out, he's an INFP, too!
It comes in different colors, too! Here are my personal favorites:
2.  Dotted Journal Notebook
For sure, every INFP had done something creative in their life whether it's arts or writing. Just like many INFPs, I love writing, journaling, jotting down whatever I think about. And the most satisfying feeling as a writer is to have a clean sheet of paper to write on. Most preferably, cute journal notebooks! This is a great INFP gift.
But to be honest, even the cheapest notebooks attract me as long as it has dreamy and inspirational designs or it's made from Kraft.
Many INFPs, including me, have a distinct desire to collect notebooks. I also have plenty of notebooks (from ordinary to exquisite ones) that I haven't written on. 
Nevertheless, I got an attraction to this specific journal notebook. It doesn't have guidelines – perfect for journaling, diaries, and bulleted designs! Moreover, 160 gsm paper is appealingly thick!
3. Bloom: Adult Coloring Book
INFPs are creative. Whether they're experts with arts or not, I bet this is a gift INFPs will like. INFPs have this duality. While they love wearing simple or dark-colored clothes, they actually love colorful sights like sceneries, paintings, and designs.
It would be lovely to do something creative during our free time. Immersing ourselves in artistic hobbies is one way to do it. 
Among the coloring books I saw, I specifically chose this one because of its expertly drawn flowers which received great reviews.
4. MARKART Colored Pencils
If ever you'll give a coloring book, you might as well include some coloring materials! Again, INFPs love seeing colors. Although I'm not an expert with painting and coloring, I always valued my art materials. Up to this day, I keep mine and use them from time to time.
Among the branded ones, I chose MARKART 72 Premium colored pencils because of the value for money and great reviews!
5. Oversized Sweatshirt
Have you ever noticed INFP who rarely adapt to fashion? INFPs are old souls who consider comfort over anything else. And I'm proud of it!
If you're going to buy this as a gift, maybe prefer the darker colors. Personally, I'd love to have either the black or dark blue ones. You can never go wrong with dark colors. While we love soft and bright colors around us, we don't like putting them on ourselves. Such irony, I know, but keep your INFP gifts on matte!
6.  Boho mug
As a coffee lover and INFP, mugs make me ecstatic. I once requested people on social media about giving me a mug as a Christmas gift. As I remember, it went like, "If ever you want to give me a gift, please make it a mug." That year, I received a mug! Yay!
A year later, I also received another one from a family friend. There were actually two mugs and I pleaded to get the simpler one with a statement design saying, "You're awesome"! 
Now, in this Boho mug, I bet INFPs would swoon over this whenever they're drinking their coffee. Because, I would. But the most important detail was the statement right on the lid. The Boho Mug Horse Design says, "Set your spirit free" which actually resonates with every INFP. Love it!
Here are also my other preferred Boho Mug designs:
7. Anime Necklace/ Chain Pendant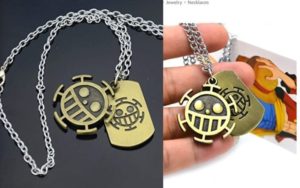 Once you get to know INFPs, you will always notice the childlike side of them. They commit to loving their favorite fictional characters. INFP girls are hardcore fangirls, too! Now if you know which movie, celebrity, a fictional character they love, you must give them merchandise from it.
No, they don't see it as a material gift. They see merchandise as a strong connection between them and their favorite characters.
The reason I particularly want this necklace is that I have an attraction to necklaces. I wore a lot of necklaces in my teenage years. No, not those luxurious gold or silver ones, but those with unique designs – either carved out of wood or merch from my favorites. In this case, it's Trafalgar Law from the Japanese anime, One Piece!
P.S. Keychains work, too! I can still remember who gave it to me, how it happened,  and what I felt. It's nostalgic.
8. Novel: The Gilded Ones
I haven't read about this one but it's gaining attention for the past year. I'd say, the front cover made me take a second look and read its summary and reviews. It's a story about an African girl named "Deka" who thrives against her own society's traditions. With the presence of monsters, a thought-provoking case on racism, and an African fantasy… Such world-building really is interesting.
I'm pretty sure INFP bookworms will find this interesting! For me, books are one of the best gifts for INFP. Send them a hardcover copy!
9. Mystic Bookmarks
Anything that looks mystic attracts the attention of INFP. Just like these wonderful bookmarks!
But aside from the appearance, INFPs who love reading would find this especially wonderful as a gift. I remember myself spending hours strolling through the Hallmark section to find the best bookmark for me. Sometimes, I make my own.
I don't know why but whenever I see my bookmarks, it feels like there's a history behind it and a certain attachment. Like, seriously. Before I continue reading a book, I take time to appreciate my bookmark first.
I'm pretty sure your INFP friend will like it. Personally, I would love to receive this as my INFP Christmas gift!
10. Adulthood is a Myth: A Sarah's Scribble Collection (Volume 1)
I scrolled on some of the sample pages and I already know I resonate with it. Oh, adulthood is such a myth. Dear INFPs, don't let the world tell you anything about maturity! I mean, my mom tells me to stop watching cartoons because I'm an adult now. But, I don't care. Embrace that child inside of us!
Furthermore, Sarah's scribble collection contains simple, yet attractive graphics. A whole collection would be a nice gift!
More of Sarah Andersen's Scribble Collection:
11. Book Love
Your bookworm friend would actually relate to this! From what I've seen so far, this Book Love contains legitimate stories only bookworms will understand. It got amazing graphics and relatable scenarios. Why not give your INFP a good laugh? Keep in mind, books are the best INFP gifts!
Plus, this is something I'd love to see on my bookshelf! Like, whenever I rearrange my books, I get so distracted because books with visually appealing pages make me sit down and read them over and over again!
That sums it up!
These are my Top 11 Gifts included in my INFP wishlist. I'm quite sure your INFP will find these interesting, too!
Again, these are my personal choices… the things I would buy on a whim. I did not include electronics and other kitchenware because that would fall under the "needs" category. Moreover, when we talk about what INFP wants, it's actually more about cultivating their child-like and creative character.
Hope this helps!
You may also like: