Freelance writers make money through constructing written texts for clients. Whether it's writing blogs, stories, e-books, and social media content, a freelancer would fit the role. Flexibility, own terms, own pace… sounds cool, right? Now you ask yourself, "Can I do it? Can I become a freelance writer in the Philippines, too?"
Well, of course!
According to Forbes, the Philippines ranks first on freelancing growth in 2020 with a whopping 208%. India ranks second with 160% while Japan is third with 87%.
The Philippine government recognizes the growing gig economy as Filipinos lean on digital careers during the Covid-19 Pandemic.
Disclosure: This post contains affiliate links. I may earn a small commission when you purchase through some links at no additional cost to you. Thanks!
How I Started as a Freelance Writer
It was in 2018. I was a broke college student in search of extra income to support my daily expenses. Upon days of searching for a part-time job, I found one that fits my schedule —writing online.
It was more than ideal. I write during my free time. I have no boss. Less travel time. Paid to write. What else could I have wished for?
It felt fulfilling when I received my first payment. But, as expected, it wasn't always smooth sailing.
As a beginner, I lacked a lot of skills and I even blamed myself for being a non-native English speaker. I made many mistakes and met rejections along the way.
However, as I continue on this path, I learned valuable lessons that I will share with you today.
What are we waiting for? Let's start.
How to Become a Freelance Writer
To start as a freelance writer, you should at least have the following skills and requirements:
1. Good grasp of the English language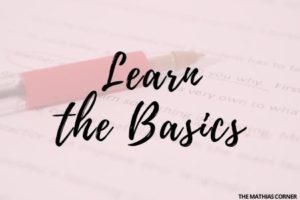 Disclaimer: there are clients who seek freelance writers for native languages,
 too. However, more opportunities come along the way if you have a good command of the English language.
You must at least:
Understand the 8 parts of speech and their uses. These are the noun, pronoun, verb, adjective, adverb, preposition, conjunction, and interjection.
Know the basics of Subject-Verb Agreement. It's crucial for a beginning writer to use the right form of the verb. 
Learn basic sentence construction. Start off with basic sentence construction. Don't worry, it gets better with practice.
Familiarize yourself with the English language through reading English novels or blogs, and watching movies. 
Know the difference between active and passive voice. Shorter sentences are easier to absorb. Most writers would recommend using the active voice rather than the passive.
Active voice is more concise and straightforward, hence better to read.
Tip:
Speaking is different from writing. You may be a fluent English speaker but writing follows a different parameter.
So, make sure to do diligent research and constant practice on your writing.
2. Improving your vocabulary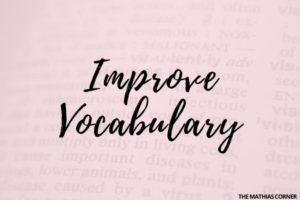 Rich vocabulary helps put down ideas into words faster. A wide range of vocabulary helps you select the most effective term.
Before, I examined English articles and explore the writer's choice of words. Are they playful with words? Do they use complex terms? Some writers even coin their own terms.
Tip#1
It's grueling to have words at the tip of the tongue but end up with writer's block. To avoid these, use a thesaurus. This isn't cheating.
Even for well-known authors and writers, a thesaurus is considered a valuable tool. It varies terms and enhances your sentence construction.
Tip#2
For me, the finest thesaurus rests within the most used typing software — Microsoft Word.
In comparison with the thesaurus websites on Google, MS Word's thesaurus suggests more arrays of synonyms that strengthen the sentence.
Highlight the word > Click Review on the menu bar > Click Thesaurus on Proofing Tab > Check the synonyms on the right-hand side of the document.
The pool of words from MS Word is an absolute gem!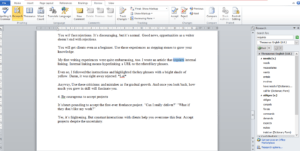 3. Utilize grammar and spelling-checker tools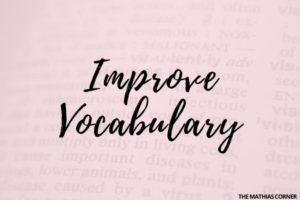 This one's important.
When I was starting, it took me around 6 hours (or more) to compose a 500-word article. I check my grammar word-for-word. It was excruciating to write a short article for most of the day.
Unfortunately, tedious proofreading didn't deliver the best results. I had a lot of misspellings and grammar errors. My articles got low ratings in the grammar category.
Fortunately, discovering free grammar tools is a game-changer. "What took me so long?!" I told myself.
I highly recommend Grammarly and Hemingway. These are the main grammar-checker tools I use for editing.
Grammarly
Grammarly helps with spelling and basic grammar errors. It marks errors with a red underline. Furthermore, Grammarly suggests corrections to tighten the piece. You can also add it as a Chrome extension.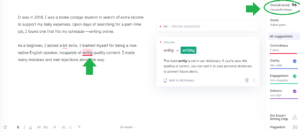 As per the image above, Grammarly highlights spelling and grammar errors. It also shows an overall score for the piece.
Hemingway
On the other hand, Hemingway shows the readability score of an article. It detects long and incomprehensive sentences and highlights passive voices just like the sample below.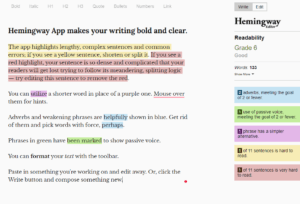 Good writing doesn't require complex terms (unless it's a thesis project). As common knowledge to writers, your piece must be comprehensible to a Grade 5 student. Not too complex, not too basic either.
4. Have the right equipment
While it's possible to use phones for writing, good access to a laptop or computer gives writers an advantage because of the following reasons:
Quality content requires research.

Desktops accommodate grammar tools with convenience.

Writing software like MS Word displays the article structure.
Most writers prefer to work on desktops for ease and convenience.
But what if I don't have such equipment?
Don't be disheartened. I know a writer who started freelancing with what he has—a mobile phone. It was not a smartphone, even. If you're determined, then make it possible.
Yes, inaccessibility to vital writing tools can aggravate the quality of your work. Nonetheless, if you trust your skills, then give it a go.
Websites for Filipino Freelance Writers
Next step-apply your skills. To become a freelance writer, you need to find writing projects. So, where can you find these writing gigs? Below is a list of freelancer websites to start your freelancing journey.
1. Upwork
Many well-established industries hire remote writers on Upwork. This platform offers full-time and part-time jobs for content writing. Upwork pays you with dollar currency so ready a PayPal account to receive these payments.
2. Onlinejobs.ph
Onlinejobs.ph is a platform intended for Filipino freelancers. Here, there are hundreds to thousands of jobs to apply for, from graphic designers to tutoring to yes, content writing, blogging, copywriting, and more.
3. Yonipp
Yonipp is a content marketplace that accepts Filipino writers. Students and full-time workers in search of side-hustles are welcome to join. Clients pay writers per project.
Topics can vary from social media marketing to gardening. Writers receive their payments thru PayPal or directly to GCASH.
4. Fiverr
Like Upwork, talented freelancers gather on Fiverr. There are writing jobs, voice-over jobs, web designs, and a lot more.
5. 199Jobs
199Jobs is another platform for Filipino freelancers. Clients buy services for as low as 199 pesos, hence, its name. Nonetheless, it's not fixed pricing. Writers can add fees through additional services and rushed projects.
Related topic: 4 Passive Income Streams for Writers
Tips for Better Freelance Writing
With my three years of freelancing journey, it has been both fun and challenging. Here are some personal tips I learned through this experience:
1. Write and practice
As a beginner, you may sometimes feel your works aren't good enough. As I was starting, my works got bad reviews. It was depressing and a huge blow to my ego. So bad, I dropped the writer facade and searched for other jobs.
But months passed, I found myself searching for writing gigs again because I needed allowance to survive college.
Writing again was easier than the first time. A slow process, but with constant practice, I improved. You will, too.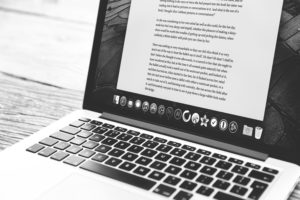 So as a beginner, don't rush yourself. Don't compare your skills to experienced writers who worked for years to hone theirs. Like them, you will get there as long as you don't stop practicing.
2. Read and examine other contents.
There are a lot of articles on the Internet. So why not learn from them?
Try checking:
Their choice of words: do they use complex words or simple words? 
Structure of the article: how they started, how they presented the main idea, and how they ended it 
How they write headings: do they write headings with a word, a phrase, or a sentence format? 
Tone: do they use formal tones or it's like having a friendly conversation?
Examining others' works helps identify where you lack in writing. Mirror what the professional and successful people do. In this era, you don't have to start from scratch.
You just need to learn from other people's mistakes and successes. Then, improve it as much as you can.
3. Be patient with your growth.
You will face rejections. It's discouraging, but it's normal. Good news, opportunities as a writer doesn't end with rejections.
You can get clients even as a beginner. It would be tough, but you get better at it every time. Use these experiences as stepping stones to grow your knowledge.
My first writing experiences were quite embarrassing, too. A client of mine requires an article with internal linking. Internal linking means hyperlinking related key phrases with URLs from the same website.
Even so, I followed what I believed was right. I highlighted the key phrases with a bright shade of yellow. Damn, it was right away rejected. *Lol*
Anyway, treat these criticisms and mistakes as necessary gradual growth. Someday, it would be fascinating to look back and see how much you grew. 
4. Be courageous to accept projects.
It's heart-pounding to accept your first-ever freelance project. "Can I really deliver?" "What if they don't like my work?"
Yes, it's frightening. But constant interactions with clients would help you overcome this fear. Accept projects despite the uncertainty.
From my experience, I've been picky with projects despite being a beginner. Hence, I had little to no projects on the line. My fear didn't help.
I changed this attitude and started accepting projects that fit my vacant hours regardless of the topic. Taking on the challenge offers tremendous growth to a beginning writer.
5. Join Freelance Writing Communities
Many writers are on the same page as you. They don't know how to start, fear they're not capable, and afraid to take on projects.
To feel at ease, group yourself with experienced freelance writers. A Facebook group is a nice place to start. Learn from other writers' issues.
Post your own questions. Join forums. I even message random writers to ask for clarifications. They would gladly help a fellow writer.
Find a community to trust as you trudge on your writing journey. If you want to go far in this profession, that is. If you don't have a mentor, just like me, talking to more experienced writers somehow fills the gap.
Final Message
Freelancing is challenging at the beginning. But remember, everyone started as a beginner. There are no perfect articles. We have lapses, of course. But all of those are essential to growth. They're acceptable.
If you truly want to become a freelance writer, then don't overthink. Don't prolong the wait until you're "ready" because you will never be unless you start.
Begin the journey today and enjoy the whole process.
Hope I helped. Thanks for reading. God bless!

Hey! You may also like the following: