Starting a blog is a piece of cake. It only takes less than 20 minutes to have one.
But I'll be honest with you as a fellow blogger. For a tech-noob like I was, who had zero knowledge and zero patience for coding with no money to hire a web designer, starting a blog felt like opening Pandora's box.
But as for you, don't sweat it. Starting your blog now will be an advantage. Some people delay starting – avoiding it like a plague – and wait until they're ready.
Unfortunately, people will never be ready unless they carry it out.
So, let's start rolling and learn the first steps of your blogging journey now!
*Disclosure: I am an affiliate of Bluehost. Also, this post contains affiliate links. I may earn a commission from qualifying purchases or sign-ups through these links at no additional cost to you. Thanks!
How to start a Blog for Beginners in 5 Easy Steps
1. Decide on a niche
2. Pick a host
3. Choose and register your domain name
4. Install WordPress blog
5. Design a little and start blogging!
We will discuss these in a few minutes, but let's first talk about why you should start a blog, and why you shouldn't do it under a free blogging platform.
Why Start a Blog
First, I'd like to describe why you should start a blog and why it is a profitable business.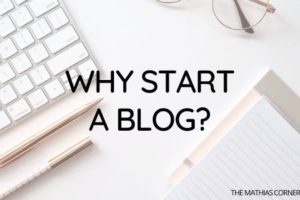 1. Blogging is a great source of passive income
Building a blog from scratch takes time. But the consistent efforts of publishing content will eventually pivot into a  flourishing snowball effect. Through blogging, your passive income can surge to stupendous heights – I mean earning thousands of dollars per month.
There are many ways to create a profitable passive income for writers. Starting a blog website is one of the most effective methods. It provides limitless possibilities in influencing people, offering services, and promoting your own product.
In blogging, the more content you make, the higher the opportunities it can convert into profit.
2. You have time flexibility
While managing your own time, you must commit to blogging as a serious business.
So how do you treat a business? You must:
put in the time and work, regardless if it means sleepless nights

check the growth every day, analyzing your business's direction and trend

maintain your product's quality with unrenounced passion
Blogging is a business, content is the product. 
But the biggest advantage with blogging is that you can blog anytime, anywhere without logging in and out from your 9–5 job. You choose when and what to publish. More importantly, you're your own boss!
3. Diverse opportunities for monetization
How do you earn from blogging? Wow, I'd say in so many ways.
Blogging allows you to monetize from:
Ads — Google Adsense is the most popular ad network to apply to, but there's also Ezoic, AdThrive, and Mediavine which provide way higher ad revenue.
Affiliate Marketing — Promote another company's product and services and earn a commission
Sponsorships — Companies will reach you out and offer you paid/ sponsored posts
Online courses — Create an online course teaching whatever you're good at and sell them to your audience
Services — Writer, photographer, a consultant – whatever services you offer, you can maximize your reach using your own blog
Your own product — Extend reach and promote your own physical products
Why Not Start on a Free Blogging Platform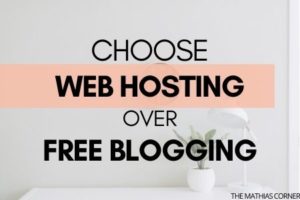 Many people seek ways to start a blog for free. While this is budget-friendly, I still have my uttermost recommendation to start a web-hosted blog, rather than on a free blogging platform.
Here's why:
1. You don't own your pages
I recently saw a blogger reaching out to a Facebook group for help. He built his blog under Blogger, a free blogging platform by Google. Unfortunately, Blogger took down his blog due to a policy violation.
He wasn't sure what his violation was, and neither I can tell if it was a mistake from Blogger's end or not. But one thing's for sure. When a provider takes down a blog you poured your efforts into, it would be frustrating and demotivating.
So to avoid these kinds of issues, you better take control of your blog's ownership.
2. Limited designs
Aside from a wide array of themes, web-hosted blogs hold many plugins to doll up your website. You can touch the CSS codes, too. In contrast to free-blogging platforms, you can only do as much as choosing a theme, editing the font style, and changing the colors. You can't customize sidebars and situate popups.
Yes, your content has a home, but the themes and designs can limit your blog website's growth and reach.
3. Subdomains can hurt the author's trustworthiness
When using free blogging platforms, your URL will have a subdomain that will look like this:
yourname.blogspot.com

yourname.wordpress.com
When readers see such URLs, it gives them the presumption of an amateurish blog, hence, less trustworthy. Serious bloggers who want to make real money build websites with URLs ending in .com or .org.
How to Start a Blog in 5 Easy Steps
Now, how do I start a blog and make money? Here are 5 easy steps to help you start your blog now.
1. Decide on a niche
Before nose-diving to officially creating your website, you must first plan which niche you will focus on. Think of which field, hobby, activities will you write about? What runs in your head through day and night? Do you want to write a personal blog?
Have you decided, yet? If yes, then great! We can easily proceed to the next step.
2. Pick a host
What's a web host? A web host allows you to publish and organize your own files on the Internet where you have full control over them. It's like renting your own space on the Internet.
I highly recommend Bluehost to host your blogs. It has always amazed its users with its competitive prices, yet committed to superb speed, and reliable servers.
It could cost you $3.95/month for a 3-year plan. Here's an image of Bluehost's web hosting plans.
For starters, I recommend the Basic plan. Start small because you can always scale up when the website has gained more size and traffic. But if you plan on having 2 websites, then the Plus plan for $5.95/month will cater to them.
Please note that Bluehost currently doesn't offer monthly service billing. The 1, 2, or 3-year plans you choose shall be paid in full. Yep, you have to pay for the full year.
But while it's annoying that it can't be paid per month, it's also a boon that e-mailed invoices won't bother you to pay $3 to $4 every month.
3. Choose and register your domain name
Now, you have a niche and a hosting. The next thing would be choosing your domain name. Have you thought of one, yet? If you have one, you can enter it in the "Use a domain you own" box.
If you haven't had a domain name, yet, Bluehost also provides domain registration.
Search for an available domain name under the "Create a new domain" box. After confirming the availability, select whether you want your website to end in .com, .org, .co, or whichever you prefer. By the way, Bluehost offers a free Domain name for your first year!
But if you still can't come up with a good domain name, it's fine. You can skip this step and worry about it later.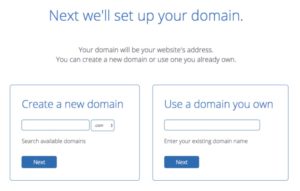 Next, you will be directed to Fill up your account and payment information. Fill them up correctly, then select the tick box confirming that you agree to their Terms of Service and Conditions, and Privacy Policies. Click Submit.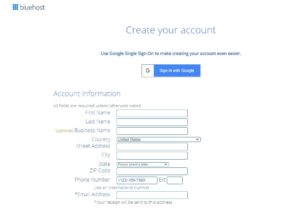 Lastly, create your password for your Bluehost account. Once you have created your password, log in to your account. That's it.
You're almost ready to get the show on the road!
4. Install WordPress blog
After setting and processing the domain name registration, Bluehost will offer you to create a WordPress website and Bluehost will install it for you.
Once you have a WordPress all set up, it's time to navigate your WordPress dashboard.
5. Design a little and start blogging!
I've said it before from my other blogs, and I will say it again.
Just pick a clean theme and immediately start creating content. Don't waste a few days designing your website,  changing the colors, and stationing widgets. Frankly, no one will check your website yet, so don't brood over how it looks.
Maybe, you can tweak a little on design sporadically, but content creation must be your priority.
"I feel sad on days I don't hit publish." – random comment from Youtube
Make it a goal to publish quality content consistently.
3 Important Beginner Tips on Blogging
Now that you have your own blog, I'd like to share a few valuable tips to get you started. In addition to these 3, you may also be interested in these 8 things I learned about blogging after 4 months.
Here we go:
1. Write 2–3 contents per week
If you're a solo blogger who aims to make money early from blogging, you must aim to publish content every day. Yes, the more, the better. Is this possible? Of course. I did a 4-day streak of daily blogs and I was so satisfied.
But I understand that we're only human beings. We get burnout. So as solo bloggers, 2–3 blog posts per week will do.
Why do I recommend publishing as many blogs as you can?
It is to show Google that your website is an active and consistently growing website. Few and slow publishing rates tend to experience results at a later time.
Many bloggers publish 2 blogs in a month and expect results. Sorry to break it down to you, you won't. With the competitive market, 2 blog posts would hardly receive any traffic.
Blog websites with numerous blog posts and publish consistently catch Google's attention.
But don't forget, create QUALITY over quantity. Don't publish for the sake of the number. It will hurt your position on Google rankings. Furthermore, readers would refrain from returning, and the bounce rates would hurt the blog's  SEO.
2. Don't stop publishing, EVER
Did you know that it takes at least 3–6 months before a new website receives trickles of organic traffic? Some websites take even longer.
Many bloggers lose heart on the 3rd to 4th month of blogging. They fear that their work never pays off, so they stop. But in actuality, Google takes time to distinguish your content and how well the audience responds to it.
So in blogging, it will take patience, skill to make quality blog posts, and a never-give-up attitude.
3. Be eager to learn how this business works
New bloggers have wide room for improvement. I advise that you continue to read and watch tutorials about writing, SEO, keyword analysis, and search engine algorithms. Experiment with different kinds of monetization. Apply to your blog whatever you have learned from your research.
Conclusion
That's it. I hope these 5 easy steps on how to start a blog encourage you to continue. Blogging, like any kind of business, needs capital, effort, and consistency. Push through blogging. Don't fear if your work would ever pay off. Sooner or later, it will bear fruits as a major passive income stream.
Happy blogging!
My Blogging Recommendations to Help Grow your Blog!
Grammarly – Detects misspelled words and grammatical errors. Moreover, it gives your piece an overall performance score based on correctness, clarity, engagement, and the delivery of your blog!
Ezoic – Aside from ad monetization, Ezoic also offers SEO, Analytics, and Site Speed tools. With Ezoic, my ad revenue increased 23x more than Google Adsense. Thankfully, they now offer an Access Now Program that accepts new bloggers with a minimum of zero – again – zero traffic!
You may also like:
· How to Blog About Your Life that Gets Reads
· Blog on a Website or on Medium? Which is Better?
· 4 Most Profitable Passive Income Streams for Writers